This week, for The Untitled Drawing Club, we are travelling to TarraWarra Museum of Art located in Victoria, Australia. More specifically, you can find this museum in the Yarra Valley wine region – an hour's drive (approximately) from the state's capital, Melbourne. This is the first museum the club has visited that I haven't visited in-person! I have, however, most definitely added it to my list of 'must visit' museums. Rather than a tour of an exhibition, we have been sent to explore the grounds and landscape surrounding the Museum. Before sharing the absolutely stunning scenery with you, and my artwork inspired by this scenery, I want to write a bit about the Museum and introduce you to the space.
TarraWarra Museum of Art
The TarraWarra Museum occupies the land of the Wurundjeri people of the Kulin Nation. 'Tarrawarra' comes from the Woiwurrung language and can be translated to mean 'slow moving water'. More broadly, it's a name given to this area of the Yarra Valley:
The Museum was founded by Eva Besen AO and Marc Besen AC – art collectors who started acquiring Australian modern and contemporary artworks back in the 1950s. Both the building and a significant portion of the collection were gifted to the Museum by the Besens. They were both so passionate about Australian art and focused on collecting the artworks of young and emerging artists including Clifton Pugh, John Olsen and Fred Williams.
Where the Museum is situated today, was purchased by the Besens in 1979. The area, 500 hectares in total, was named TarraWarra Estate. Twenty years later, in 1999, they hired a project manager to build a museum that reflected both the region and their love of modernism. Construction finished in early 2003 and it opened to the public later that year. It is quite a remarkable building, winning the Victorian Premier's Design Award for its elegant design in 2004.
Since its opening, there have been over 110 exhibitions. It has also become a site for other cultural events such as Australian Chamber Orchestra concerts and TarraWarra Festival.
Museum Collection
I wanted to learn a bit more about the Museum's collection so I ventured to their website. There is no formal virtual, but you can explore some highlights of the collection by following this link. Since 2002, the collection policy has expanded to include contemporary Indigenous art and to accept gifts of international art. The strength of the collection is its Australian figurative, abstract and landscape paintings from the 1930s to present day.
I want to briefly share a few of my favourite works and I hope this inspires you to discover more.
Concerto for Flute & Violins, 1968 by Yvonne Audette
I love the use of colour and shapes in this work. It looks like a pastel modernist dream.
2. There Was, 1953 by Charles Blackman
This artwork manages to be both relaxing yet daunting at the same time. A great balance.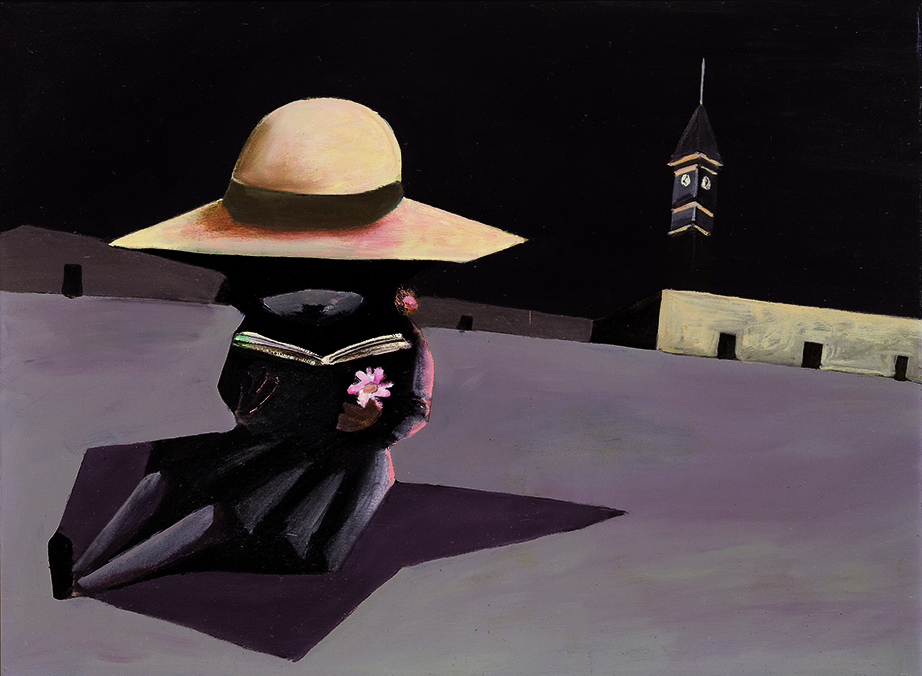 3. The Construction Fence, 1978 by Jeffrey Smart
This work really caught my eye. Is the girl running from something or towards something?

Drawing Club Tour
As I mentioned before, the links for this week focus on the surrounds of the Museum. The landscape and scenery is truly incredible. This is literally the view from the cafe:
The club also provides a link to a YouTube video released by the Museum in 2020. It's called 'Autumn Vignette at TarraWarra Museum of Art'. If you are looking for four minutes of pure relaxation, then I highly recommend watching this video. I absolutely love autumn and being able to experience it at the Museum through video, images and sound was an amazing way to end a Monday. One of my favourite parts of the video is at 1:55 when you can see kangaroos hopping through the vineyards.
I felt relaxed and inspired after my visit and there was no doubt in my mind as to what my artwork would be for this week.
My Artwork
If you've been reading my other Drawing Club posts then the type of artwork I've created should come as no surprise. I really want to be consistent because I'm considering stitching them all together to create an artwork-style quilt at the end of the twelve weeks. I haven't committed to that idea yet.
While wandering around on Google maps, I saw some trees that I subsequently sketched. Then, I cross stitched a few autumnal leaves and a small pumpkin.
I truly cannot wait to visit this museum. Some day…. For now, it will be added to my ever growing list of museums and galleries I need to visit. Not want, need. I truly miss being able to visit so many incredible cultural institutions. Until I can, being in this club gives me something cultural to look forward to each week and I am truly grateful that a link was sent to me. If you want to join or discover further information about the club then click here.