I am very excited to share with you another guest post from the wonderful Imogen!
Hello again! The lovely Bec has invited me to write another guest post here on Curate Your Own Adventure. I've found blogging about my museum and heritage experiences a great opportunity to contemplate what I've seen and discuss my thoughts with others.
Earlier in December I visited Port Macquarie (a coastal town 4 hours north of Sydney) with a group of friends for a pre-Christmas getaway. I hadn't even thought about looking for a museum to visit while I was there, but was excited to happen upon the Port Macquarie Historical Museum on the Saturday morning. I returned with a friend later in the day and we made our way through the exhibition spaces together. On arrival, we were greeted by two very helpful and enthusiastic volunteers. I had quickly checked the museum's website before visiting, which mentioned that the museum was larger than appears and recommended allowing around an hour for a visit. This was definitely a worthwhile recommendation as the exhibition space was much bigger than it appeared from outside and seemed to go on forever! The museum is housed in an historic building, which has been recognised by the National Trust for its heritage significance, and was the original general store when the town was settled.
Given the scale of the museum I'll choose just a few of the displays to focus on. I was pleasantly surprised to find that the first display related to the local Indigenous population and their history, with a number of stone and wooden tools displayed alongside a large amount of interpretive text. Accompanying these tools were photographs by Thomas Dick (1877-1927), a local photographer and historian who had an interesting relationship with the local Indigenous population. The Thomas Dick photography collection includes a large number of photographs of Aboriginal people in staged reenactments, in an attempt to create 'authentic' pre-contact images, in the 1920's. It was nice to see the names of some of the subjects of the photographs acknowledged in the display, while the photographs prompted me to think about the ethics and motivations behind this photographic project and how non-Indigenous approaches to interpreting Indigenous histories have evolved over time.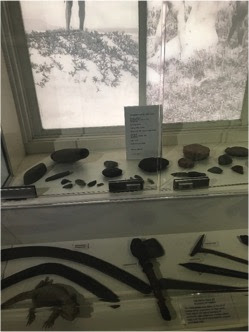 Another element of the display that was both fascinating and beautiful was the display of fashion. Throughout the whole museum I was amazed by the size and breadth of the museum's fashion collection, and was pleased to see how well it had been taken care of in terms of conservation and care in display techniques. Most of the vintage fashion pieces were stored in a large chest of drawers, which visitors could open to see each piece and read about its history. Not only did this display allow the pieces to be shown as they would have been kept by their original owners, but it also ensured the delicate pieces were protected from the light and other environmental factors. When the drawers were open, a protective layer of glass ensured further preventative conservation whilst also allowing these significant objects to be accessible to visitors. I've included a few images of the dresses that were displayed in this way, as well as one of stunning black satin dress from the 1870's, that was in fact displayed in a room of its own. It was completely closed off from the rest of the museum except for a window visitors could open to view the dress, again protecting it from light. These conservation efforts seem to be working as all of the dresses seemed to be in remarkably good condition. I was also excited to see that the museum has done some collaborative work with the Australian Dress Register to conserve and catalogue their collection.
Here are some links to their entries on the Australian Dress Register:
http://australiandressregister.org/garment/267/
http://australiandressregister.org/garment/33/
http://australiandressregister.org/garment/268/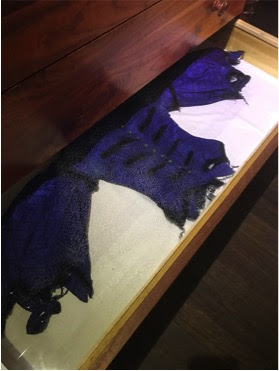 One more small display I couldn't help but quickly mention (I can't stress enough how much I'm skipping over here, this museum is huge!) was of the old dentist's office and instruments. The display was eerily life-like and seeing all the instruments laid out, some of which might be uncomfortably familiar, gave me shivers.
I had a truly enjoyable time visiting the Port Macquarie Historical Museum, and would encourage anyone to visit and discover all the other great bits I didn't get a chance to talk about here, including the huge old well, all of the interpretive information on the town's role as a penal settlement and the display upstairs which recreated period bedrooms, children's rooms and a dining room. Thanks again to Bec for letting me share my thoughts again!
This post was written by Imogen Kennard-King. Her email is: Imogenkennard.king@gmail.com.
Thank you again Imogen for such a wonderful contribution to the blog! I cannot wait to visit the Port Macquerie Historical Museum and see their Australian Dress Registered clothing and dental tools! If you would like to contribute a blog post please contact me at: curateyouradventure@gmail.com.